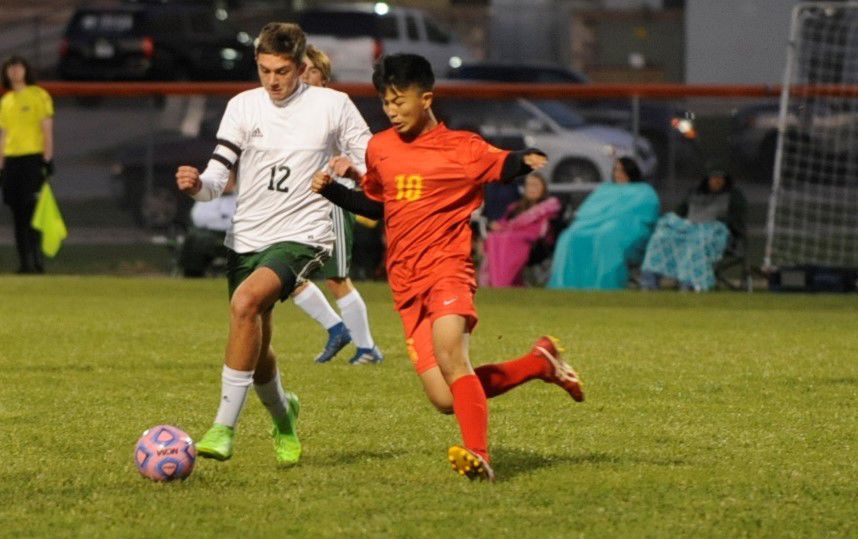 CHARLESTON – Mattoon was asleep, its sturdy offense providing little help and its defense pestered by Charleston's attack. Half an hour into Thursday night's game, the Green Wave were staring at a two-goal deficit and a sour end to a regular season that has contained a few more missed opportunities than they would have liked.
They decided enough was enough. They were too skilled, too proud. They woke up and went to work.
"We've underachieved a little this year, and I thought we played that way in the first half," Mattoon coach Ryan Ghere said. "We can be as good as anyone around if we play how we did in the second half."
Mattoon scored two goals in the game's final 10 minutes to defeat Charleston 4-3 in the third meeting between the two this season. It was the final regular-season game for both before the playoffs begin next week. The Green Wave own a 2-0-1 record against the Trojans this year, and they'll meet again Tuesday evening in a regional semifinal at Mattoon. One will end the other's season. Mattoon ensured they would enter that final tango feeling confident.
"We played to win the second half," Ghere said. "We questioned them a little bit at halftime and they responded. We played hard and controlled possession."
Charleston, though, continued to prove a 4-1 loss to Mattoon (12-3-4, 6-2-4) on Aug. 29 was an anomaly. The Trojans (12-8-1, 6-5-1) shoved aside a 1-3 start to the year and gave Mattoon all it could handle, showing off its improved attack on offense. They took a 2-0 lead 28 minutes into the game.
In the end, Mattoon's offense and its forwards asserted themselves. Gavin Gonzalez's goal with nine minutes tied the score 3-3. Zachary Diebel scored the go-ahead goal with six minutes remaining.
"We get the ball out wide," Ghere said. "First half, we didn't try to do that. We just played down the middle and they had their numbers in the middle. Second half, we got it out wide, Gavin got some balls in, (Jakob) Weder did a nice job up top and became a target."
Mattoon scored 40 seconds before halftime and tied the score 2-2 when Charleston scored on its own net in the 56th minute. The Trojans took the lead back a minute later when Blake Garrett scored his second goal of the game.
"Just let him get away one time in the second half, and in the first half too," Ghere said of Garrett. "He's too good a player to just let run free."
That was the last notable misstep Mattoon took.
Garrett's first goal came in the 21st minute. Charleston scored again on Eugene Ohba's free kick goal in the 28th minute.
"Once it was 2-0, they controlled the ball and were in their attacking third (of the field) much more than we were," Charleston coach Josh Garrett said. "If you let a team be in their attacking third for 60 minute straight, they're going to score."
Contact Patrick Engel at (217) 238-6856. Follow him on Twitter @PatrickEngel_
Get in the game with our Prep Sports Newsletter
Sent weekly directly to your inbox!