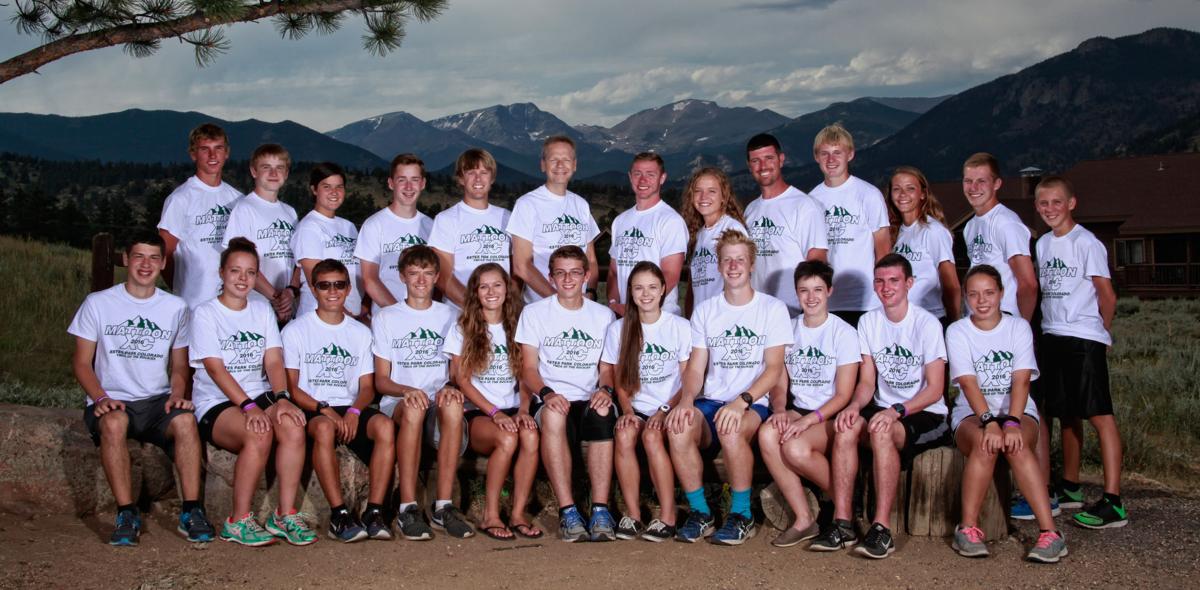 MATTOON — Mattoon cross country coach McLain Schaefer has a fondness for the Rocky Mountains in Colorado. Hiking trips in the summer out there have been a part of his life for a while.
His love for the Rockies led to an idea for the Green Wave coach. Why not try and find a way to take a team trip out Estes Park in Colorado over the summer? After talking it over with some parents and some planning, Schaefer was able to organize the first-ever summer trip for the Green Wave.
"I was just looking for the next step to make our program that more special for the kids," Schaefer said. "I had incredible support from the team and the community, because without the support of all of those facets put together, we wouldn't have done it. We raised money in six months to make it happen.
"I want to thank all of the sponsors for their support. It was insane from a fundraising standpoint. What we received for our kids and the program, it's really, really big."
The team made a one week trip to Estes Park Colorado at the YMCA of the Rockies, which is a community-focused nonprofit that offers recreational programs and services for all ages."
"It's absolutely a massive facility and a lot of acres, tons of housing and borders with the Rocky Mountain National Park," Schaefer said. "With what they offer teams, there's so much to do. I knew that was the place where I wanted to take them."
A total of 19 Green Wave cross country runners, 12 boys and seven girls, made the trip, which is most of the combined team. The week included many team-building exercises, hiking and of course some running.
"It was fantastic. It was everything we hoped it would be and more," Schaefer said. "Just a really, really good trip. Going into it, the workouts weren't my focus. I knew we were going to get running in. This was for team building and team unity and the chance for the kids to experience the mountains and what they have to offer."
Even though Schaefer didn't plan too many workouts, it was easy to come across one in the mountains.
You have free articles remaining.
"No matter what you do, it's going to be a workout in the mountains," Schaefer said. "Everything we did involved active movements. There were some days the kids didn't run, but did a 12-mile hike."
The team did get plenty of running in, though.
"The kids enjoyed the running we did. We had an intrasquad 5K with 1.6 miles up a mountain with the finish down the mountain," Schaefer said.
By the end of the week, Schaefer kept hearing about how much fun the team was having at Estes Park.
"I've heard nothing but positive things," Schaefer said. "Just being there creates the atmosphere. Being where we were and with the team around, it created the experience. It went over really well."
Schaefer is hoping the trip carries not over to the cross country season, but is something the runners remember for a while.
"My hope is that this goes beyond this season," Schaefer said. "Obviously we want to do well and have high expectations. Hopefully this goes beyond that and creates a lifetime of memories. The microfocus is we want to do well and that this is a good catalyst, but the big picture, there's more to this sport than the season and these kids are going to be lifelong runners and will remember this.
"Yes, we want to do well and this was the starting point, but that this will take them beyond that."
While Schaefer would love for this to be an annual trip, he knows that's not feasible. However, he doesn't plan for this to be the only trip the Green Wave take out to Estes Park.
"It's not something we can do every year. My goal is to have every cross country runner experience it at least once," Schaefer said. "Hopefully we can do it every other year. My goal is to do it once in their career, so probably every three years we can make the trip."
Mattoon's first cross country meet is Aug. 30 at Charleston.