Each week the Journal Gazette/Times-Courier features some of the top performances of local high school athletes. Here are the Athletes of the week from Sept. 9-14
Kat Blase/Hannah Buescher, Charleston volleyball, 5-10 M sophomore/5-4 L, DS, junior
Charleston went 6-1 during the week, improving to 11-3 overall. The Lady Trojans began the week with a three-set win over Mount Zion followed by a loss to Taylorville. Charleston won the Shelbyville Invite Saturday, beating Pana, Marshall, Edwards County in two sets, New Berlin in three and sweeping Paris for the title. Blase and Buescher were on the 10-member all-tournament team. No stats were available for either player. 
Cumberland nipped Arthur-Lovington-Atwood-Hammond in the Lincoln Prairie Conference opener 13-7. Brant had 10 carries for 82 yards and had the game-winning 51-yard touchdown run. Flier had four catches for 94 yards from quarterback Colt Guyon, including a 60-yard pass for a touchdown on the game's fourth play. The Pirates are 1-2 overall and 1-0 in the conference. Brant also led the defense with seven tackles, while Flier had three. Brant returned a kickoff 37 yards.
Daniel Drake/Mitch Pollock, Tri-County football, 5-11, 190 RB, DE, junior/6-3, 170 QB, DB, senior
Tri-County won its first game of the season over Blue Ridge in a Lincoln Prairie contest. Drake had 11 carries for 166 yards and scored two touchdowns. Pollock was 5-of-7 for 133 yards and threw three touchdowns. Drake also was in on 3.5 tackles, including two for a loss. He had one sack and three hurries as the Titans downed previously undefeated Blue Ridge. 
Melia Eskew/Kaylenn Hunt, Tri-County volleyball, juniors
Tri-County improved to 5-2 overall and 1-1 in the Lincoln Prairie with a 3-0 week. The Lady Titans swept Martinsville and beat Shelbyville in three sets in non-conference matches. Tri-County beat Arcola in three sets in an LPC match. Eskew had 77 assists during the week, while Hunt had 33 kills and 11 blocks. 
Shane Ghere, Mattoon boys soccer, MF, senior
Ghere had two goals and two assists in a 6-2 victory over Effingham to begin play in the Apollo Conference. Ghere also had an assist in a 1-1 tie with Lincoln also in a conference game. The assist was Gherer's 51st of his career, breaking the school record set by his brother Jake last season. The Green Wave are 6-1-1 overall and 1-0-1 in the Apollo. Both games were on the road.
Layton Hall, A-L-A-H boys cross country, junior
Hall beat 97 other runners in Saturday's Paxton-Buckley-Loda Invite with a time of 15:30, which was seven seconds faster than second-place Drew Rogers of Herscher. Hall's finish helped the Knights place fourth with 91 points in the 13-team meet. 
You have free articles remaining.
Keep reading for FREE!
Enjoy more articles by signing up or logging in. No credit card required.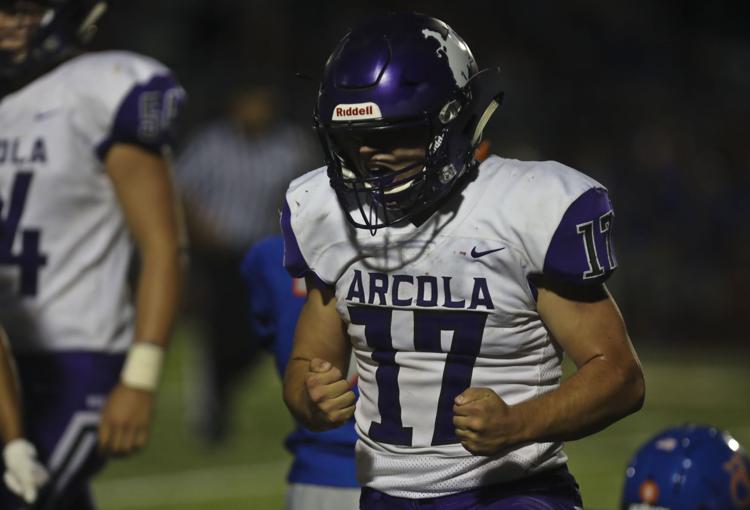 Arcola bounced back from a 45-42 loss to Tuscola in a big way with a 41-6 triumph over Villa Grove/Heritage in the LPC opener. It was the first time the Purple Riders beat the Blue Devils since 2007, ending a six-game skid. Jones was 13-of-17 for 178 yards and three touchdowns, while Hopkins had 23 carries for 165 yards and two touchdowns. Jones had four carries for 14 yards rushing, while defensively Hopkins had three tackles, including one for a loss. 
Trey Huisinga, Casey-Westfield golf, senior
Huisinga led all golfers with a 42 at Oblong as the Warriors finished six shots behind the Panthers. Huisinga was second on the team in a triangular with a 44 at the Marshall Country Club. The Warriors won the meet with a 178, 14 shots better than Tri-County. Casey is 9-6. 
Ailey Mitchell, Shelbyville cross country, senior
Mitchell beat 55 other runners to win the Shelbyville Trail Invitational at General Darcy Trails with a time of 18.25 on the 2.98-mile course. Her first-place finish helped the Lady Rams earn second overall with 35 points, 10 behind Marshall. 
Drew Rogers, Sullivan boys golf, junior
Sullivan remained undefeated with a 17-0 record as they won triangular over Maroa-Forsyth/Warrensburg-Latham and the Sullivan JV team with a 153, which was 27 shots better than second-place Maroa. Rogers was second with a 38, one behind teammate Camden Dwyer.  In a quadrangular at home, Rogers shot a 38 to lead all players. The Redskins beat Shelbyville, Okaw Valley and Meridian with a 168, which was 26 shots better than second-place Shelbyville. 
Storm Washburn, Casey-Westfield football, 5-10, 180 RB/LB senior
Washburn helped the Warriors win its first game, 21-12 over Newton in a Little Illini Conference game last Friday at Newton. Washburn had 29 carries for 240 yards and scored all three touchdowns on runs of 3, 18, and 4 yards respectively. He was also in on 2.5 tackles, including one for a loss for Casey (1-2). 
Ava Yoder, Arthur Okaw Christian volleyball, 5-9 M, sophomore
Yoder had 25 kills as the Conquering Riders during the week, which began with a two-set win over Urbana University High. In the Pathway Invitational in Kalona Iowa, AOC beat Galesburg Christian and Quad Cities Christian School. In the championship, AOC beat Pathway 23-21, 21-19 to move to 10-0.