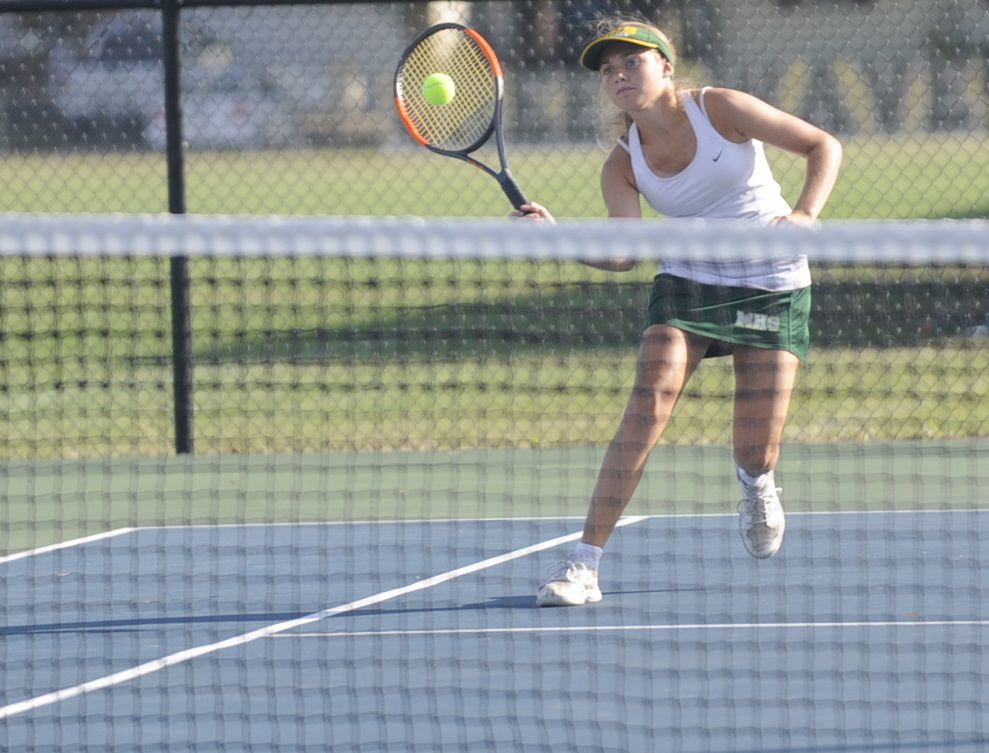 MATTOON — Dwight Perry's view of his team's win-loss record is purposely indifferent to the point where he doesn't remember it offhand.
He simply hopes that his Mattoon tennis squad improves and is strong enough over the course of the regular season to give it a chance to place well in the Apollo tournament and at sectionals.
An 8-1 win over Mount Zion Tuesday left him with a sense of an ability to do both. It moved Mattoon to 3-0 in conference matches, and yes, Perry knew that.
"When it comes to conference play, I pay attention to that more," Perry said.
Mattoon swept all six singles matches and won the No. 1 and No. 2 doubles. Emily Stortzum, Tess Huene, Hallie Niemerg, Caroline Davis, Kambelle Ashmore and Annelise Overmyer claimed the singles victories. The No. 2 doubles pair of Niemerg and Davis won 6-3, 6-3, while the No. 3 duo of Ashmore and Destanie Garza lost 6-3, 6-2.
Mattoon's No. 1 doubles pair, Stortzum and Huene, dropped the first set to Mount Zion's Michelle Roberts and Caroline Baker. They won the second 6-4 and won the tiebreaker 10-8.
After a shaky first set with plenty of overhits and returns into the net, Stortzum and Huene controlled the second one to force the tiebreaker. Mount Zion scored straight four points to start it, but they responded with four of their own. Stortzum supplied the final three points of the mini-run that tied the score at four apiece. The duos traded points until the score was 8-8 before Mattoon scored the final two.
"I've had girls lose the first set and fight back and win," Perry said. "It indicates there's no quit. It was touch-and-go with the No. 1 doubles, but they found a way, and you have to take that as a positive."
Stortzum moved to 3-0 in conference singles matches. She lost to Charleston's Rachel Thomas in a tournament, but it does not count toward her Apollo record. It will count when the singles players are seeded at Wednesday's coaches meetings.
"I think she'll have a No. 2 seed in conference," Perry said.
Stortzum was Mattoon's No. 4 player as a sophomore and moved all the way up to No. 1 to replace Kyah Eastin, who graduated last year. Huene moved up four spots from No. 6 to No. 2. Perry figured he would have some inexperience at the top, with Niemerg as the only senior among the top four players, but any concern he harbored over that is just about gone.
"I knew they had played in a lot of tournaments, had taken lessons and worked all summer," Perry said. "I had a lot of faith in them doing well, but they had to show it on the court. I think they have."
He doesn't need records to confirm it.​
Contact Patrick Engel at (217) 238-6856. Follow him on Twitter @PatrickEngel_
Get in the game with our Prep Sports Newsletter
Sent weekly directly to your inbox!