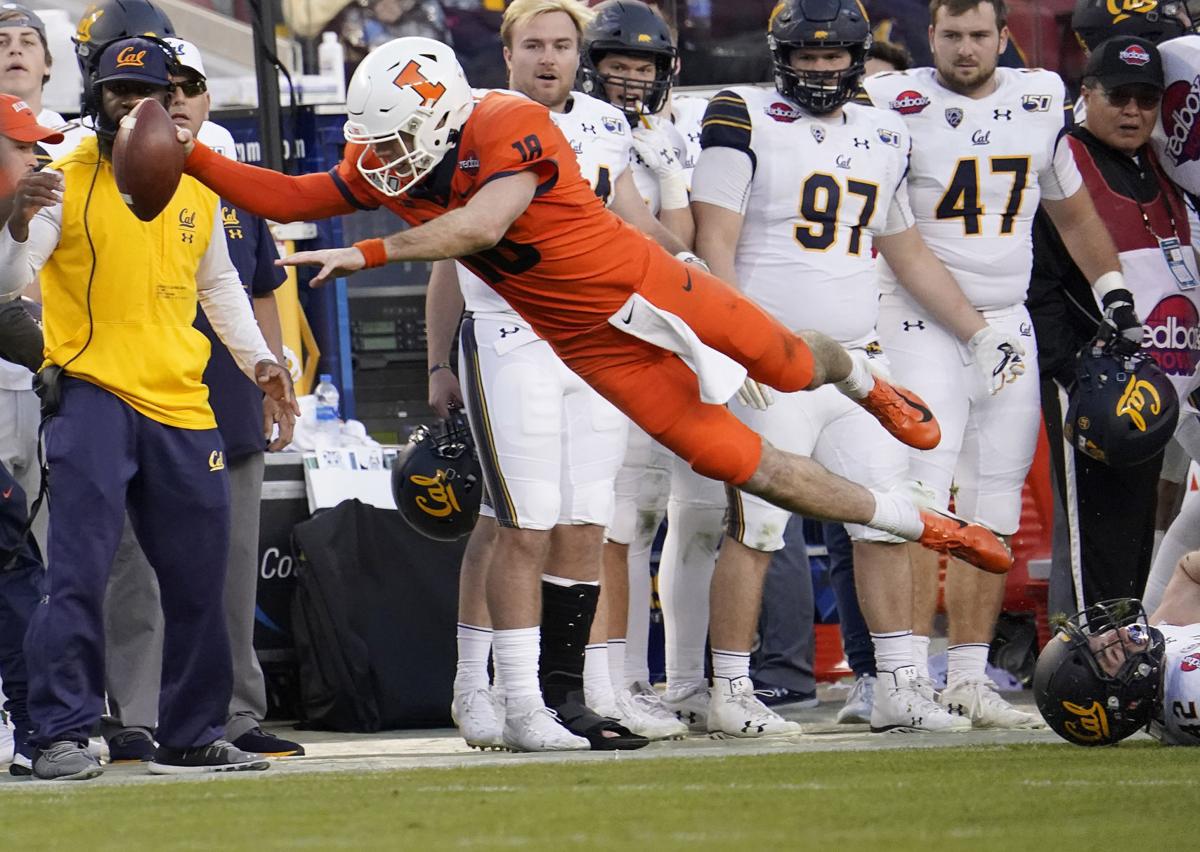 In the context of the game, it was a rather inconsequential dive from Illinois quarterback Brandon Peters on fourth down, late in the fourth quarter of a two-score game. Had Peters picked up the first down, which was tantalizingly close, it would have taken a small miracle to rally a comeback in a December loss to California in the Redbox Bowl.
The springboard into the offseason — at least while being together has a team — hasn't had much bounce. The coronavirus pandemic sent players home as stay-at-home orders were enacted and sports were paused in the middle of March. When Peters returned to campus in June, it was clear that he made the most of his downtime as he enters his final season of college eligibility after putting together the best, and most consistent, year of his career in Champaign after transferring from the University of Michigan.
Illinois football head strength and conditioning coach Lou Hernandez gave a list of players who looked impressive early on as the team returns for voluntary workouts. Hernandez mentioned linebackers Jake Hansen and Khalan Tolson, wide receiver Donny Navarro, tight end Luke Ford, punter Blake Hayes, defensive lineman Jamal Woods, offensive linemen Alex Palczewski and Vederian Lowe and Peters as players who have been particularly impressive early on voluntary workouts.
"Watching him run, he looks absolutely incredible," Hernandez said of Peters. "He's got his big, long stride and he's taking people down with it and winning races. There's a competitiveness. He's definitely put the work in to help showcase some of his athleticism.
"He's definitely standing out right now as a guy who continued to lift, continued to run and continued to work on his overall performance. I think that right there shows a lot to this football team how important it is for our quarterback to get it done and hopefully it's going to continue to spread throughout the remainder of our guys as well."
Peters, who hasn't been made available to the media since the Redbox Bowl loss to California, threw for 1884 yards and 18 touchdowns to go with eight interceptions last season while rushing for 213 yards and three touchdowns.
After the Redbox Bowl game, Peters sat in the postgame press conference having completed his first of two seasons in Champaign and proclaimed that he had found a home — finally.
"Whatever it was that motivated him to continue to do some work, I couldn't be happier with that in this time off," Hernandez said. "Looking at him right now, his body looks incredible. He definitely has maintained and maybe put on some lean muscle mass. He's got some more definition on him. He definitely looks like he's been in the weight room."
---
Meet the verbal commitments for the Class of 2021
Contact Joey Wagner at (217) 421-6970. Follow him on Twitter: @mrwagner25
Be the first to know
Get local news delivered to your inbox!