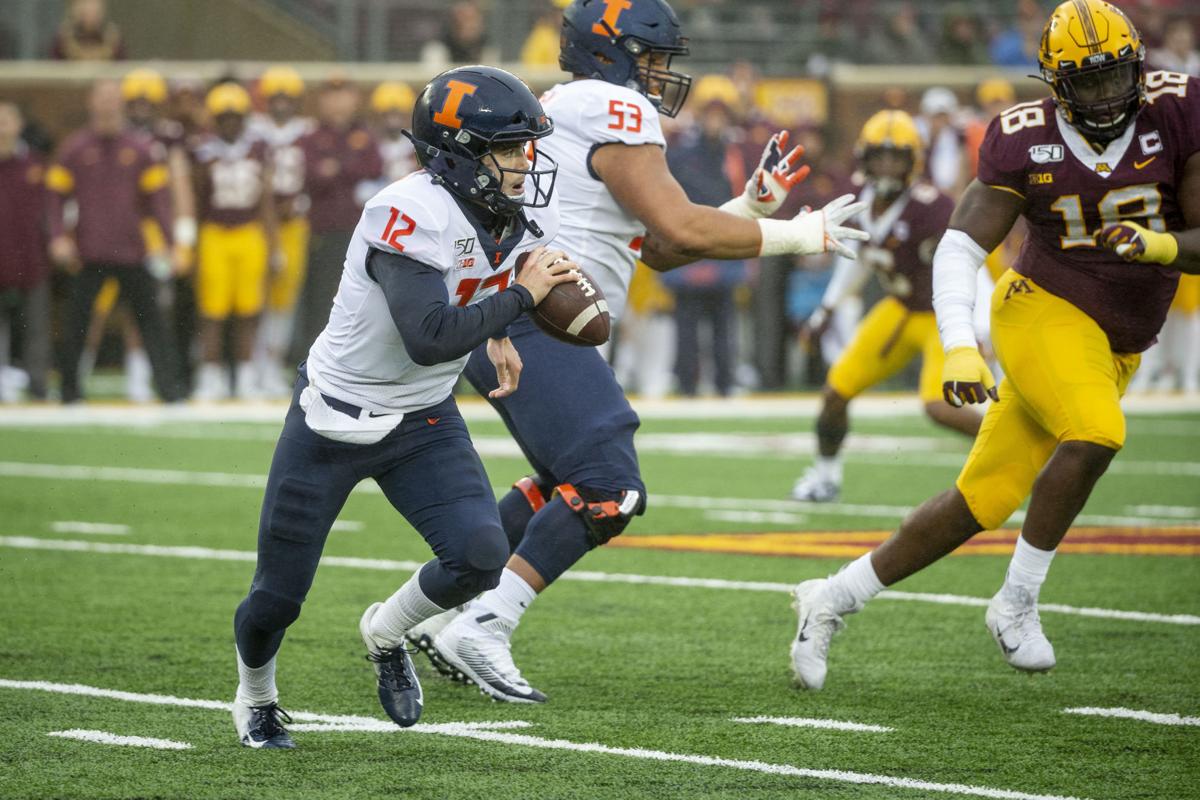 CHAMPAIGN — Matt Robinson has a calmness about him. If he's going to march out as the starter against No. 16 Michigan at 11 a.m. Saturday, he's not coming close to showing his hand. Or maybe he really doesn't know if he'll get the nod.
Robinson, a redshirt freshman quarterback for the Illinois football team, insisted that this week of practice won't be unlike any previous weeks. But things are a bit different. Starter Brandon Peters left in the first half of Saturday's loss at Minnesota and didn't return, leaving Robinson to finish the game.
So it's business as usual for Robinson.
"Even when I wasn't playing, I always prepared like I was the starter," he said. "Each week, and I don't know what the circumstances are this week, I'm just going to prepare like I'm the starter and do everything I can to be as best prepared as I can be."
There's a value that comes with practice reps, one that the coaching staff is trying to drill into the players' minds. Robinson seems to have gotten the message.
"Every rep you take in practice is gold, it's gold," offensive coordinator Rod Smith said. "Every rep. You've got to approach it that way. It's a Big Ten championship rep. Every rep. When you approach it that way from every position, we'll get the product we want and that's what we've been preaching."
The loss to Minnesota was Robinson's first meaningful minutes on the field at Illinois. He's come in at the end of blowouts, and threw a pass in a Week 4 loss to Nebraska after Peters' helmet came off on the previous play. But nothing was like last Saturday, when he was thrown into the fire and trailing against an undefeated Gophers team on the road.
His calmness helped ward off nerves before trotting on the field. His first thought was wondering if Peters was OK, but then he had to draw from the mental and some physical reps he'd gotten before stepping into a game situation.
"I was out there just having some fun," he said.
Robinson has been in tough situations before, but few as a backup. The last time he was a backup, by his own recollection, was as a freshman in high school. 
"It's definitely a different approach, but once you get to college you've definitely got more competition than, let's say, a high school program where you're the only guy in that area or whatever," Robinson said. "You come here and everyone on the roster is usually talented. ... Either way, I'm always going to prepare no matter what. If I'm the starter, I'm going to be ready and if I'm the backup I'll be ready."
For the final three years of high school, he was the guy for JSerra Catholic in California's Trinity League, one of the top conferences in the nation. He set a school record for passing yards and threw for 2,417 yards and 22 touchdowns as a senior. When he was thrown into last week's game, there was something about the moment that put Robinson in his element. He threw for 125 yards in relief of Peters with no touchdowns or interceptions, and gave Illinois an option on the ground with 19 rushing yards gained before sacks depleted his total.
"You finally get that juice back," Robinson said. "When you haven't played in a while, you kind of forget how that felt. Then you get back out there and it's like, 'OK,' and you kind of get that energy back and get in the zone. It felt good."
So just how exactly did Robinson, a California kid, arrive in Champaign? It started when Rod Smith was hired in January 2018. He began seeing which quarterbacks were still available late in the recruiting process. He found Robinson and eventually saw a 15-minute highlight video of a quarterback who was generously listed as 6-foot-1. Rod Smith liked what he saw in Robinson's play in a strong high school conference. But Robinson didn't generate heavy interest from power conferences. 
"He would have had more than he had if he was 6-2," Rod Smith said.
Lovie Smith saw the same things in Robinson that Rod Smith saw. They liked the fit.
"You would describe him as a dual-threat quarterback," Lovie Smith said. "He has quickness, he can move the chains with his legs and he also hid moments throwing the football. That's what we saw then. He shows up every day, a good teammate. As a young guy that's developing, it's wanting an opportunity to play. He got a big opportunity last week, we'll see how it plays out this week."
Robinson doesn't entirely know where he would have ended up had Illinois not swung in late with an offer from a Power Five conference. He said he had interest from some Mountain West schools, but Robinson can't be sure about what would have happened. What he does know is that if he's the starter on Saturday against Michigan, he'll be ready to go.
"That's obviously what you want," Robinson said. "As a kid you want to play against the best teams. It would be pretty cool for me. I feel like it would be kind of a dream to play against Michigan."
Contact Joey Wagner at (217) 421-6970. Follow him on Twitter: @mrwagner25
Be the first to know
Get local news delivered to your inbox!