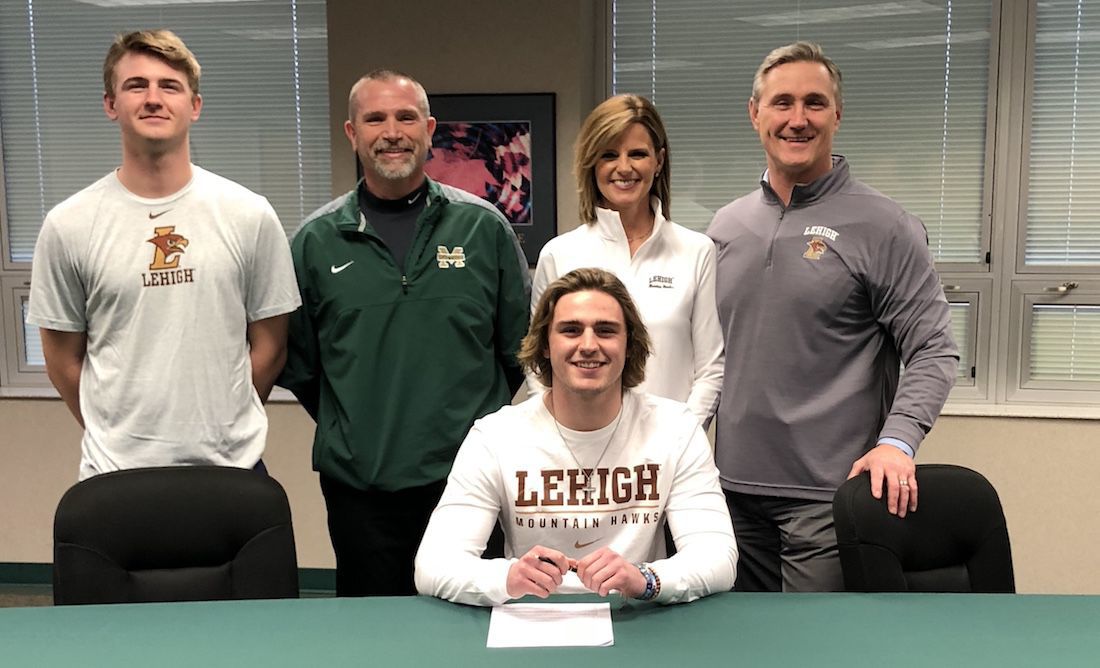 Jack Pilson had a paved express lane with no tollbooths leading right to Eastern Illinois.
Kim Dameron's staff had extended him a scholarship offer to EIU, the same school where his father, Jamie, and brother, Jared, both played football. Pilson, who played for Mattoon High School, could stay close to home too. Everything about the fit made sense, in theory.
Except Pilson wanted something different.
"I was kind of tired of the cornfields and being surrounded by that," he said. "I wanted to be able to get out and venture out a little bit."
More importantly, though, he wanted to make a name for himself instead of following a family tradition.
"I wanted to make my own mark somewhere else and not be known by everybody," Pilson said. "I wanted to earn that respect."
So with the new horizons in mind, he emailed his film and bio to programs around the country and hoped he'd find some out-of-state schools reciprocate interest in him. Around the end of his senior season, a few coaches returned his overtures.
Pilson, Mattoon's quarterback last year, will play football for Lehigh, which to most folks in Central Illinois may as well be as distant as Siberia. He signed his letter of intent on Feb. 12, nearly a week after National Signing Day because the recruiting process with Lehigh didn't ramp up until January. Getting there involves a flight from Champaign to Charlotte to Lehigh Valley, or a two-hour drive to Indianapolis to get a flight to Philadelphia, only to drive another hour from there. Pick your half-day excursion.
Lehigh's coaching staff, led by linebackers coach Tyler Ward, began recruiting Pilson about a month after his senior season ended. Eventually, they wanted to bring Pilson on an official visit, meet him and potentially extend an offer if it went well. So he and his family trekked to a foreign land on Feb. 8, unsure of what exactly it might hold. Turns out, it fit everything.
"It was a little late in the game, but it was almost like it all came together and was the perfect fit," Jamie Pilson said.
Jack had a checklist for each school he visited and each offer he gained. He wanted a well-known academic school, a strong football program, a new geographical area and people he trusted. Lehigh, with a .630 Patriot League win percentage, 22 percent acceptance rate and located in the hills of eastern Pennsylvania, fit the first three well. The official visit sealed the last one.
"I felt very welcomed as soon as I stepped foot on campus," Pilson said. "I felt like it was the right place for me because everyone wanted me there."
Furman had been recruiting Pilson and had hosted him for an unofficial visit. The Paladins' staff wanted him to take an official later in February, but he didn't want to prolong his recruitment or risk losing a spot at Lehigh.
"I couldn't let that pass up with not knowing much about Furman," Pilson said.
Pilson will play defense for Lehigh at the hybrid linebacker/safety nickelback spot that college defenses are increasingly utilizing against spread offenses. College coaches had offered him at a few positions. Eastern Illinois offered as an athlete. Sacred Heart, another private school in Connecticut, wanted him at quarterback. Most of the looks he received at the FCS level, though, were as a defensive player.
"Willing to play any spot, love football, will travel," Jamie Pilson said. "That stirred some additional interest."
Contact Patrick Engel at (217) 238-6856. Follow him on Twitter @PatrickEngel_