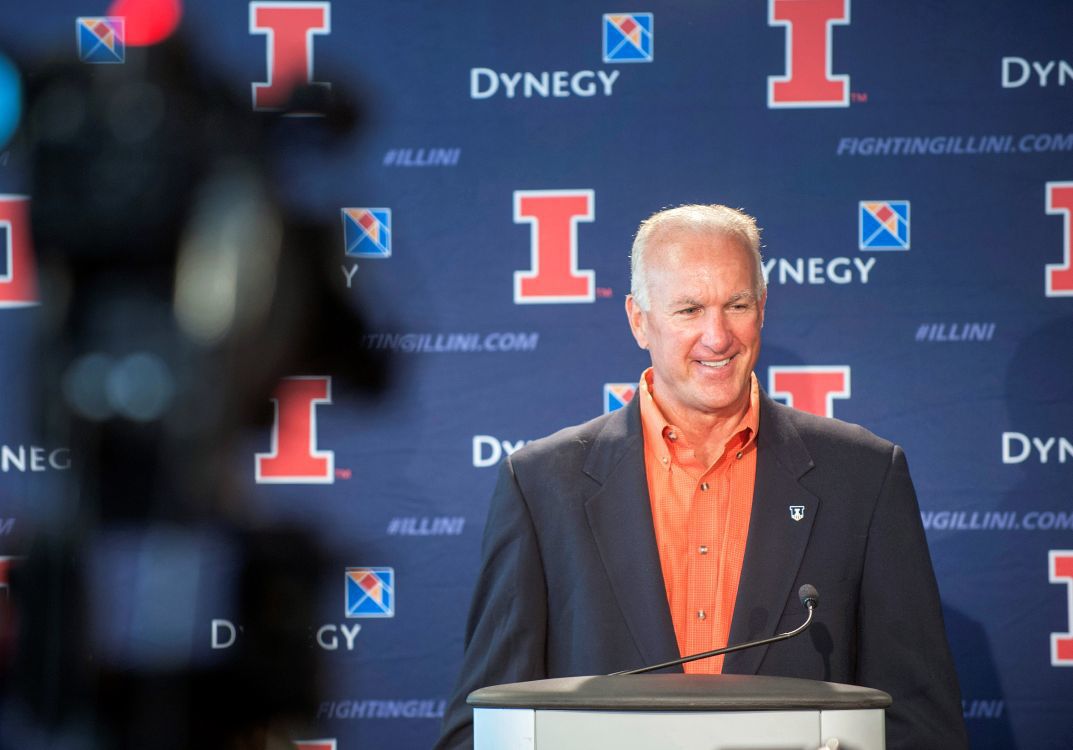 CHAMPAIGN – Illinois' new head football coach showed up Monday with a sport coat, a bundle of passion, a promise for the fans and a tear in his eye.
Bill Cubit, named interim head coach on an extraordinary Friday after Tim Beckman was abruptly fired, wanted to make a good impression at his first weekly press briefing.
So he ditched his traditional golf shirt in favor of a blue blazer and orange button-down shirt. "I look pretty good in it," he joked.
He handled the press conference himself, having told his coordinators to stay in the office and work on the game plan for Friday night's season opener against Kent State.
"I just think there should be one voice for the program," Cubit said. "The one voice is really important to me."
Cubit said he has spent the 72 hours since he accepted AD Mike Thomas' offer to run the program organizing his staff, spending time with his players and leading the team through three practices he hopes will have them ready to start the season with a victory.
"I can't thank the players enough," Cubit said. "They've been unbelievable. The community has been unbelievable."
Since he arrived on campus before the 2013 season as offensive coordinator, Cubit has been talking about the close relationship he develops with his players. "I love these kids," he says frequently and players say the same about him.
Defensive tackle Jihad Ward will tell you about having Thanksgiving dinner at Cubit's home. He calls Cubit's wife, Nancy Cubit, "mom" and routinely greets her with a bear hug.
On Monday, Cubit teared up when talking about the reception he has received, both nationally from well-wishers and internally, from players on both sides of the ball.
"I love the guys on this football team," he said. "It's an honor to go out there and be their head football coach. Can you ask for anything more? And to see the reaction I got from a lot of the country, and from alumni who said, 'Hey, coach, we're all in your corner. Let's go.'
"And the defensive guys coming up and saying, 'Coach, I've got your back.' It's pretty neat to be able to do this at my age (61)."
Cubit said he hopes fans will see a team that reflects great togetherness, despite the adversity that created a chaotic situation on Friday. And he's working on holding together a recruiting class despite unusual circumstances.
"I've talked to all the recruits but one," he said. "Yesterday was a good day." Despite Beckman's firing, Illinois got a commitment Sunday from defensive end Brandon Jones from Columbia, Mo.
"I'm going out there and make this university proud, make the alumni, students, facility, everyone proud. They are going to see a pretty good product out there."
To get started, Cubit is having to shuffle the coaching staff.
Illinois has known since February that wide receivers coach Mike Bellamy will be suspended for this game for a self-reported NCAA rules violation while helping a junior college athlete arrange to get a degree he had not completed.
Already down a full-time assistant with the dismissal of Beckman, the university has submitted paper work to promote former QB Nathan Scheelhaase to the position of running backs coach.
That would take some responsibility off Cubit's plate as he tries to keep a hand on all aspects of the operation. Primarily, though, Cubit will be the offensive play-caller.
Another former Illini QB, Reilly O'Toole, and graduate assistant Tyler Johns, are pitching in, too.
Players say Cubit addressed the team and told them to be urgent and united.
"The message was we have to be ready to go," offensive lineman Teddy Karras said. "He said it's going to take all of us and we're going to have to be together. And he said we're going to have fun."
In practice, Beckman normally spent time with the cornerbacks and kicking teams. Now co-defensive coordinator Tim Banks is handling the corners and Alex Golesh is working more with the special teams.
V'Angelo Bentley is a cornerback and a punt returner and Beckman would normally work closely with him. Bentley said he knows he has to make a quick adjustment.
"Friday was a little bit of everything," he said, recalling when he got the news that Beckman had been fired. "I just remember telling myself that this is a time to be a leader for this football team."
Bentley said he and Beckman have exchanged text messages.
"Last weekend we had a scrimmage and my dad was here," he said. "He took a picture of me with Beck and we were showing great joy in the picture. I sent that picture to coach Beck and he texted me back and said, 'Keep being a leader. You'll always be like a son to me.' That's how he treated me."