MATTOON — The backyard dirt track at the Daniels home is mostly overgrown, the groove just a few inches wide in most spots, but enough to see the outline of where a bike should be driven. Nick Daniels, upon buying the property, designed and built it about 20 years ago for practice use.
Some houses have yards built for wiffle ball, space for a quarterback to throw a football or room for a skating rink in the winter. This plot of land on the outskirts of Mattoon could support all of those. But it is no ordinary household with typical youth interests.
Instead, part of it is home to a track with all kinds of obstacles. It's a crooked oval shape, smaller than any regulation one, but equipped with tight turns, a hill and a jump like those found on professional tracks. And for years, Nick's son, Dallas, tore it up after taking a liking to the family's trade.
"It was all dirt, all perfect," Nick said.
Dallas, a professional dirt track biker, third-generation racer and the 2019 American Flat Track Singles Rookie of the Year, needed a tougher challenge long ago.
It's among just a few things this youthful terror on two wheels has outgrown.
Coles County's blooming professional athlete is a high school junior, a lithe 16-year old who's all arms and legs, an undulating corn stalk, who still has braces fastened to his teeth and would need to sneak into an R-rated movie in theaters. He has to spray fake champagne after winning races. One glance at him, and you'd guess he would need a month to grow even a thin beard.
Dallas Daniels belongs here, though.
He belongs here because he set his sights on it in elementary school, first hopped a bike as a toddler – with training wheels and in the driveway, of course – and came home to the household and family best equipped to nurture and train a boy to be a professional motorcycle racer. If a Ph.D. in motorcycles exists, give Nick an honorary one. He would become Dallas' unofficial professor as soon as Dallas demonstrated the will and the interest to be his pupil. And, man, did he ever.
"If you can get serious enough, this can be your job," Dallas said. "You never have to work a regular job. To the sound of that, it's like, 'Well yeah, obviously.'"
He belongs here because he earned proverbial A's in every course along the way. He's an exemplar of someone who identified his passion early, set to work on it and never stopped. Forget about playing multiple sports or being "well-rounded." Why spend time on something that wasn't the end goal? He essentially majored in bike racing – a 16-year program.
Dallas turned pro in June, right when he hit the minimum age to do so, and finished 11th in total points despite appearing in just nine of 20 events. He won his fifth ever race and clinched the Rookie of the Year, determined by total points, with two races to spare. His season ended on Sept. 28, and he plans to train and race in Florida this winter. He spent the 2018-19 winter in Arizona, the home base for his team, Estenson Racing, for which Nick also works as a coach and mechanic.
Still, Dallas is well, trying to be a kid whenever he can. How can someone so young handle and embrace this atypical career arc and teenage lifestyle? Heck, he began earning a full-time income before he could drive. The Rookie of the Year prize is a $2,500 check. Trying to live a 25-year-old's life as a 16-year old is the hardest part of post-grad.
"I have an actual job," Dallas said. "I'm not a kid anymore who can mess around. I get paid to do this."
He's still in actual school too. Last year as a sophomore, Dallas shifted to Mattoon High School's program designed for students who need more attention, extra help, or in his case, have a special talent. It is done primarily online. He usually goes into the school building only during off weeks for a half-day, but can participate in extracurriculars.
"He's flying by himself and doing all these things," Nick said. "It's unfortunate and fortunate. There are times where it's like, 'This is what you have to do. You have to go train. You have to make these decisions, but hopefully when he's 40 and retired or working a job only because he wants to, he'll be happy he put in the time. But it's definitely not the normal kid lifestyle."
It feels natural, though, and feels right. Nick's expertise, wisdom and connections as the backbone of the curriculum for a career in professional bike racing paired with Dallas' clear comfort on a bike makes it so. This is all Dallas has known. It was his main hobby as a kid, and it's his livelihood now.
"I could go and ride, get away from everything, do something that was fun," Dallas said. "Some kids would go play basketball after school. This was my way of forgetting about school for a while. Forget about everything and go ride."
'He looked real natural'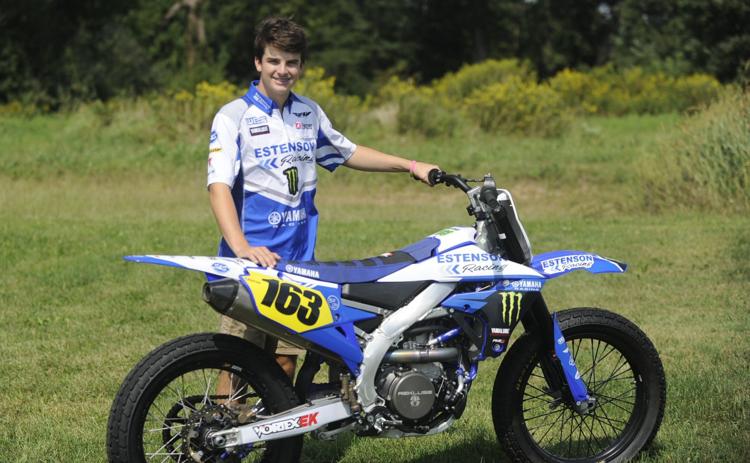 Nick's father, John, once an intrigued teenager, decided one day to give bike racing a shot. He got a job at a motorcycle shop in his hometown of Belleville, Ill., saved up to buy a dirt bike and taught himself how to turn it and slide it on the infield of an old baseball diamond. Years later, Nick, naturally, had the itch. He first mounted a bike around age 4 and turned pro at 18. He retired in his early 30s, when Dallas was a toddler, and moved into a trainer and mechanic role.
Nick had no intention of shoving Dallas toward this career, but the trade was in Dallas' everyday life from birth. There were daily reminders in the form of bikes in the garage, awards in the home and that track out back. It's frequently a generational sport. Not all sons of racers are destined to follow their father's footsteps, but to non-racer parents, buying their pre-teen son a motorcycle and investing in training is an asinine thought.
Dallas soaked it in. He brought a 5-gallon gas tank when he accompanied Nick to races. A frequent stop was Peoria, the same track on which Dallas won his first race in August. There, he took that gas can, put it on its side and stood on it to see over a chain-link fence for an unobstructed view of the action. After races, Dallas toyed around on bikes.
A pro race comes through Springfield each Saturday of Labor Day weekend. The night before it is reserved for amateur races for all ages and bike classes. Dallas entered and placed third in a race on the smallest possible bike, a 50-class.
"There was really no hurry to get Dallas into racing because I was still racing a little bit," Nick said. "But he went there on his P-W and he was racing around, hauling ass. He looked real natural, real comfortable on the bike. He was leaning the bike over so far he was dragging the pegs. He was barely 4 at the time."
You have free articles remaining.
That was the spur. Dallas went to amateur nationals in 2008 as a 5-year-old and won two 50-class events. He earned the American Motorcycle Association's youth rider of the year award.
"He came to me and said, 'Dad, we're doing pretty good, we've won a few races. What would it take to win them all?'" Nick said. "I told him up front that we'd take it a little more seriously, start traveling a little more. But at that age, you can't burn him out. Even now, I don't harp on him about training too much. I got him doing push-ups, running a little."
Dallas went to school in regular hours until ninth grade, training and racing around the state in the warmer months. Everything was close by – Neoga, Casey, Peoria, Belleville, Springfield. Dallas kept impressing, kept beating riders his age in 50-class and eventually 85-class events. Nick ramped up the tasks.
Regional, national and even international travel for races began when Dallas was around 11 years old. Nick targeted busy tracks in Indiana, Ohio, New York, Florida and beyond, brought Dallas there and had him race against locals. They always drove, bikes and gear in tow. Journeys back to Mattoon sometimes took all day Sunday or through the night. Occasionally, Nick drove through the night and dropped Dallas off at school, stopping at a rest area to brush his teeth or shower.
Dallas, an increasingly intrepid adventurer, won 24 straight amateur 85-class races as a 10 and 11-year-old. He bumped up to 250-class rides and adjusted without issue. He began winter training over Christmas break in Florida or other warm-weather climates.
Nick took him to Canada to skirt the age minimum to ride a 450-class bike. There, it's 11. In the U.S., it's 14. Dallas raced pros in outlaw races – events not backed by the AMA – in the U.S. and Canada. They wanted any and every challenge, damn it.
At age 12, Dallas could compete with and sometimes defeat pros to win money in outlaw races. He was stronger and physically capable of steering those larger bikes. Even in races where he wasn't beating pros, he saw the times he needed to hit to contend with just about anyone. Elsewhere, he raced at AMA amateur national events and more regional ones, about a 60-40 split between sanctioned and outlaw.
"When he got on big bikes, it was apparent that he was really good," Nick said. "I try to look at it through a racer's eyes and not a dad's eyes, so nothing I saw was too impressive, but it was good."
Dallas raced a 250-class bike in select events during the 2016 AMA Supermoto season, a professional championship but effectively a pro-am that allowed racers under 16. He placed second in the season opener in Bakersfield, Calif. His 13-year-old baby face standing on the podium and hoisting a trophy caught the attention of Supermoto communications specialist Andrea Wilson.
"I didn't know how young he was," Wilson said. "He looked young, but I assumed he was 16."
She ran into the Dallas at another Supermoto race in Canada later in the year. He placed second in that one and took third at another Supermoto race in Denver. Dallas still tagged along with Nick to pro races where Nick was working in the pit on the track. Wilson was there too. She observed Dallas by his side, studying and watching, and made a mental note.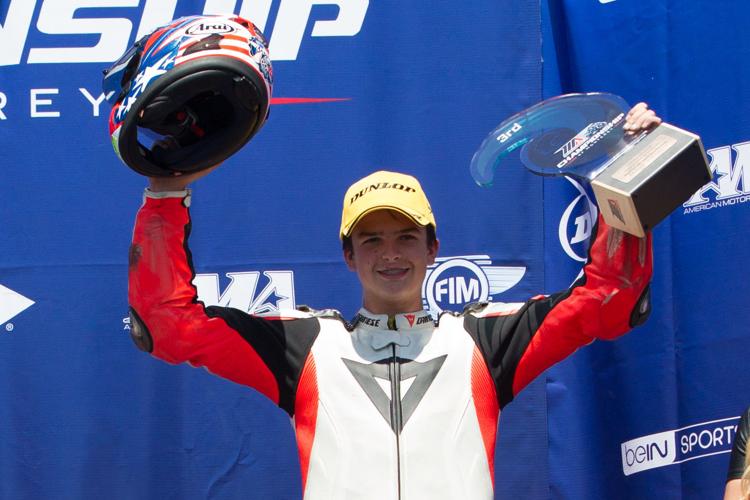 In 2018, Dallas won the Horizon Award, given to a top amateur racer in motocross, road racing and dirt track with promising pro potential. Dallas won it in dirt track and road racing, the first rider to claim the award in multiple areas since its 1997 inception. Graduation was nigh.
"A lot of racing is confidence," Nick said. "But he could see it two or three years before."
'Why shoot for third?'
Turning pro in dirt track racing is nothing like the decision amateur basketball, football, baseball players make when weighing their options of entering their respective sport's draft. They may have the most impressive stats for their level, but need to answer questions about being physically ready, mentally ready and skilled enough to hold their own. No two stay-or-go cases are exactly alike. Some are amateurs for longer than others.
In motorcycle racing, most rookies are 16 or 17, and the decision is all about the time on that stopwatch. If it's fast enough to compete or place in professional races, all that's left is to be 16 and file the paperwork. It's often a formality. Finding a team is the only suspense.
Last fall, Tim Estenson had an opening and not many ideas. His 2018 singles rider was moving up to twins. Wilson, now Estenson's communication's director, mentioned Dallas to him. The only problem was that he wouldn't be 16 until halfway through the season. Estenson heard the pitch, dismissed the age as a non-issue and welcomed Dallas.
"With Tim not really having an idea where he was going to go with the singles program, he was my first thought," Wilson said.
It came on one condition: Dallas has to finish school. Nick wants him to. The Estensons require it. Marching orders. He could finish his online work and take the GED test before May 2021, when his classmates from elementary school will graduate. For now, though, he plans to stay on schedule and don a cap and gown with his friends.
The prime of dirt track bikers' careers lasts about 10-12 seasons, Nick says. The 2019 singles champion, Dalton Gauthier, is 20 years old, while twins champion Briar Bauman is 24. Dallas and Nick are thinking more immediate. They want to win the singles title next year, and the year after that. Dallas can enter the AFT's twin division when he's 18. They'll go from there.
Nick admits Dallas is faster now than he ever was during his career. It's a high-floor baseline for a rookie. There's room to grow and time to stay at the top if he reaches it.
That's the goal, of course. Dallas' education didn't prepare him for life as an also-ran.
"We're not trying to be a single champion, but trying to rewrite some of the record books," Nick said. "Be the best dirt tracker this country has seen to this point. Why shoot for third?"
Contact Patrick Engel at (217) 238-6856. Follow him on Twitter @PatrickEngel_